THE MIDDLE EAST
There is no need to explain why a peace organization like TFF is engaged in the Middle East. It has, for decades, been a region characterised by deeply protracted conflicts - many, diverse, inter-locking dimensions, including: culture, resources, arms imports, arm races, foreign military presence, nuclear weapons (assumed and real), territory, traumas, history, religion(s), strategy, economic problems.


Further, the Middle East is - perhaps more than anywhere else - where the interests of powerful world actors have clashed. And it is a region in which the West professes to work for democratization while at the same time having propped up authoritarian governments for decades.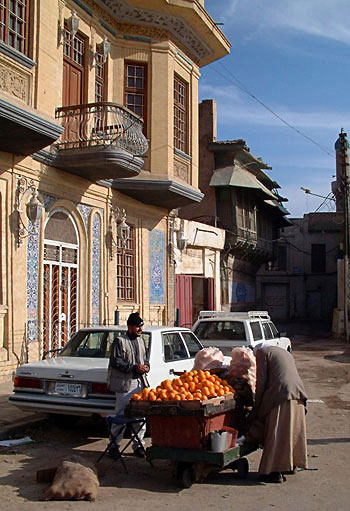 Orange seller in the old quarter of Baghdad 2003
TFF has been engaged in the Middle East in many and different ways.
Several of its Associates are specialists either in the region as a whole, or in specific countries or aspects of the prevailing culture. Some have repeatedly run courses in conflict-resolution and nonviolence there; some have gone there when - as in Egypt - big changes have been happening. Yet others others have been appointed to high-level positions in the Middle East for the United Nations.
Iraq
has been a major, long-term project. TFF conducted two fact-finding missions before the war, in 2002 and 2003, on the basis of which numerous articles, reports, books and a photo series were published.
TFF Associates have also published dozens of articles on the developments in the relations between
Iran
and the Western world. Since early 2011 we have monitored a lot of what is now commonly called
the Arab Spring
in Tunisia and Egypt; one of our young Associates was in Cairo for several months in 2011. And several TFF Associates have written extensively about the war in and on
Libya
since March 2011.
These are all on-going engagements for the Foundation.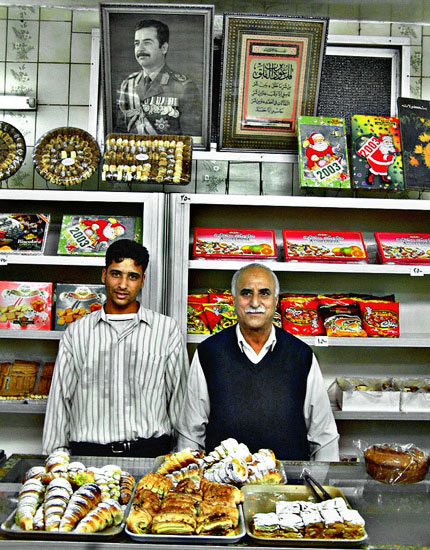 Baker's Shop in Baghdad 2003
Rather dark clouds are gathering in the region while writing this entry in early 2012. In spite of that, TFF will increasingly apply a pro-peace stance on the conflicts and developments there - focusing on possible solutions, alternative perspectives and opportunities for peace and reconciliation. We will continue to highlight instances of nonviolent struggle, whether successful or not.
All the same, this does not mean that TFF Associates will not concurrently and consistently criticize the use of violence in general and militarist and interventionist approaches in particular.
Associates' writings on the Middle East 2012 -