Ex-Yugoslavia - TFF's work since 1991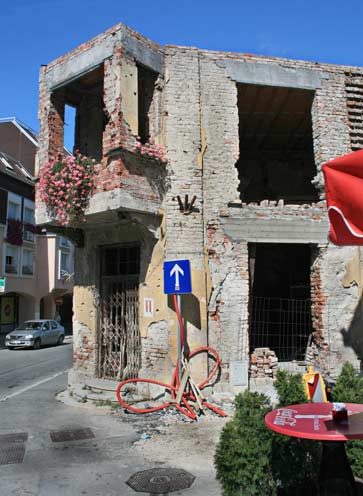 Vukovar, Croatia 2008
TFF began its fact-finding, conflict mitigation and peace education in all parts of the former Yugoslavia in September 1991, a few months after the conflicts had deteriorated into warfare.
Based on our first team mission, we published the report "After Yugoslavia - What?" in November that year - more than 3,000 copies of which were disseminated. Among other things, the report proposed a deployment of UN peace-keepers in Croatia. It was the first time that proposal was made and it became reality a few months later.
Members of the TFF team - among them Jarman, Sommelius, Schierup, Schultz, Galtung, Oberg and Wiberg - have visited the area numerous times in a personal capacity: one of them visited Yugoslavia as early as in the late 1950s. Between 1991 and 2010, TFF sent teams to the former Yugoslav republics some 70 times.
During the missions, including during the bombing of Kosovo and Serbia (1999), TFF conflict-mitigation and fact-finding teams conducted more than 3,000 longer interviews and did so with people of all walks of life, on all sides and in all the republics.
What came out of this work?
Firstly, TFF produced conflict analyses, conflict-mitigation proposals, alternative peace plans, early warnings and a series of education programs and skills training in
peace by peaceful means
for civil society groups in most of the republics. TFF team members were used extensively by international media, including CNN (but, perhaps significantly, not by any government).
Secondly, the Foundation drafted quite a few books, book chapters, reports and articles. Team members participated in media debates and used their experiences in numerous conferences and courses internationally.
In short, what you read at TFF is based on multi-year, personal, in-the-field experience and book knowledge as well as on thousands of interviews in the field with all sides before, during and after the wars.
A blog and a book entitled "Yugoslavia: What Should Have Been Done" by Johan Galtung, Jan Oberg and the late Håkan Wiberg will be published in 2012. It will cover the 2500+ pages the three authors wrote over the years. The blog will contain the manuscripts as they were written at the time, and the book (about 150 pages) will summarize its content for a wider audience.
Today, TFF monitors, does fact-finding and writes predominantly about Serbia and its Kosovo/a province, Montenegro, as well as Macedonia and the international community's policies in the region.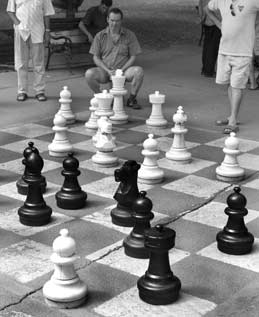 Chess play in Sarajevo, 2008
The links to your right lead you to a wealth of information.
If you are interested only in what Associates have published about ex-Yugoslavia since 2012, go here