If the Q & A below is of no help...
© 1986 till today

TFF - The Transnational Foundation
TFF@transnational.org
Vegagatan 25
S-224 57 Lund, Sweden
Tel. +46-(0)738 525200
Registered public-not-for-profit
organization under Swedish law
# 855001-4637
Does TFF offer any type of grant, scholarship or other economic support?
No. We are not a grant-making foundation.
Is TFF interested in working with volunteers for short periods?
Yes, in principle. It depends on the situation, the compatibility of the volunteer's interests and ours and where the volunteer thinks he/she is able to make a contribution to our work. If you would like to volunteer with TFF, email us and present yourself, your interests, why you are particularly keen on working with TFF and enclose your reasonably detailed CV.
How may I use the materials on this website?
TFF holds the copyright either alone or with the author to all texts published on this homepage and its sub-pages: Associates and Themes Blog, Imagine A Better World Community, TFF Old Website archives, etc.
Unless otherwise indicated, Jan Oberg holds the copyright to all images.
All the same, we encourage you to spread these materials through your own network, to make links when you work out a syllabus for a course, etc.
The
only
thing we require is for you to state clearly:
where
the material is published and that TFF holds the
copyright
- such as
TFF, The Transnational Foundation 201X
.
We also welcome your help in making TFF materials known through social media channels such as Facebook, Twitter, LinkedIn, blogs and PCDN (Peace & Collaborative Development Network) or wherever you have your profiles.
In addition, students should include full links in the footnotes of their papers and thesis, so readers can easily access the article being quoted.
What is stated here applies to both texts and images.
How does one become a TFF Associate?
The standard procedure over the years for becoming an Associate has been by invitation. However, since we cannot know all the talented people around, you are welcome to contact us. If you are highly experienced in your field and you are absolutely sure that your values and field of excellence are aligned with the goals, philosophy and credo of TFF, please send us an enquiry explaining this and telling us how you would like to make a special contribution - please include your detailed CV.
Can I submit articles to this site?
We always look through any serious submissions and may post articles that are not written by our Associates. When we do, the piece of writing is of outstanding quality and fits our themes well. Nevertheless, we do give priority to our Associates.
Can TFF do public relations - on this homepage or through its email service - for my organization's activities?
We regret that we simply do not have the resources or time. PR for TFF is more than enough.
What is meant by honour payment?
It's like a tip, the same as a
voluntary
mini donation; it's a policy also introduced by many museums around the world. You have free access to gain knowledge and to benefit from TFF, however, before you leave the homepage, you are strongly encouraged to make a donation - from 2 dollars and up - to express your appreciation and help us do even more for peace.
We think it's honourable to pay a little for what you receive. Besides, in so doing you help us to remain absolutely independent.
Can TFF help me with my thesis, paper, article?
Browse this homepage carefully for knowledge and inspiration. After that you may write to us. Whether or not we respond depends on our workload. If you want to have a TFF Associate as an adviser on your thesis, it can only be against an
honorarium
.
Does TFF offer courses on peace?
We don't. But we do all the things you can read about under "Trainings and partners".
How do I approach TFF when I want to find a teacher, lecturer or trainer?
Email us!
How can I donate, or otherwise support, TFF?
Hit either the "Bank & giro payment", "Online" or "PayPal" buttons under the Support heading in the right-hand column.
TFF is an all-volunteer organization. How is that possible?
All TFF Associates have other positions and sources of income. Some are professors, some work in media, some are consultants. Others are freelance with many different types of income. The director, for example, makes a living from international teaching assignments as well as from speaking, training and writing columns and books (all this is in addition to his full-time work with TFF, which he does on a voluntary basis).

So, nobody is economically dependent on TFF and TFF is not dependent on any one source. That's how we remain free.
How much does it cost to do all that TFF does over a year?
Donations from citizens around the world amount to roughly US$ 25,000-30,000
per annum
. In addition, the Foundation seeks project support through grants.
Given the Foundation's output per year we are probably the most cost-efficient organisation in the field.
January 2012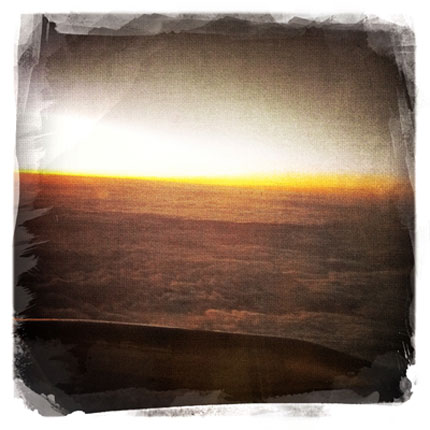 Sunset over the clouds